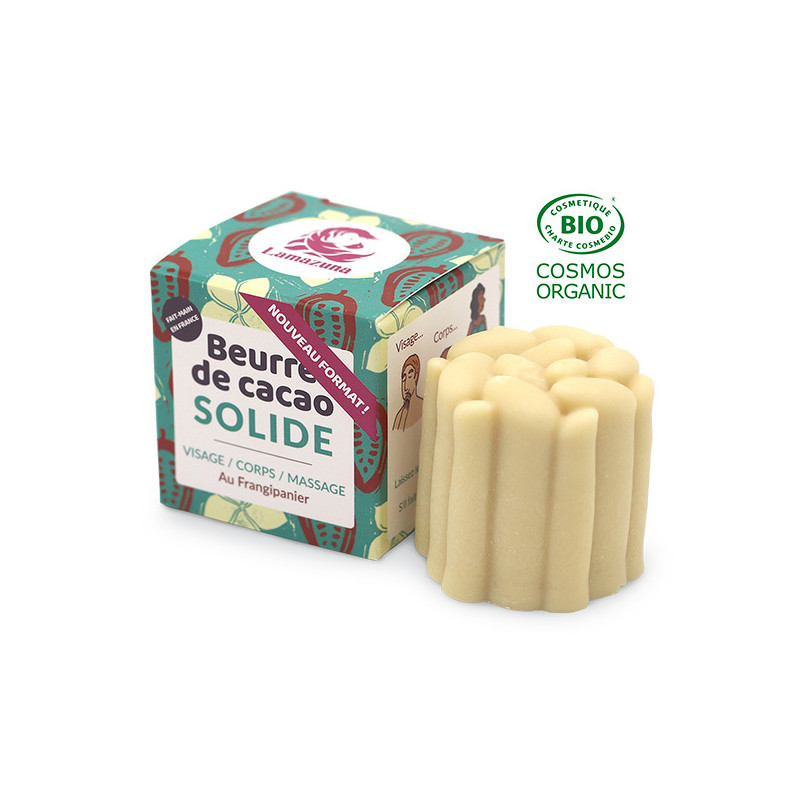 Our solid cocoa butter is handmade in France, in the region around Nice, using 100% naturally derived ingredients. Its delicate frangipani scent is also naturally derived.  
Our cleansing wipes were the very first Lamazuna product! When you use them over and over again, that's thousands of disposable cotton pads you're not throwing away! And they're so easy to use: simply moisten with water and wipe gently over the face. You don't even need to use make-up remover. The microfibre fabric acts like a make-up magnet!  
Price
€9.90
Regular price
€12.50
-€2.60
If you're pregnant or breastfeeding, you can use our cleanser for normal skin with an exotic scent!
Free of essential oils, it has a subtle, sweet fragrance that makes you feel relaxed while you care for your skin. And, of course, it's packed with beneficial ingredients that were chosen with the greatest care!
Certified COSMOS Organic, our solid make-up remover cares for your skin and won't leave a residue! 
A new product for your zero-waste bathroom is here!!

Our brilliant, organic, vegan, solid conditioner is handmade in France and has an irresistible soft vanilla scent!

Our solid shampoos have a new shape and produce a more generous lather! 

A new format and even more lather for the same price! 

A new shape, a new formula, a new sensation! 

No, it's not a lollipop... It's a solid toothpaste, which is much better for your teeth! It looks cute but works hard to keep your teeth clean without dirtying the planet! 

Zero waste
Handle made with 70% plant-based material, in France
A toothbrush with a replaceable head!
Don't forget to choose your bristle type (Soft or Medium) from the dropdown list. 

Price

€13.50

Regular price

€14.90

-€1.40

Make up your duo with a replaceable-head toothbrush and a solid toothpaste for happy, shiny teeth! 

Now we have a solution for sensitive gums! This new refill set contains 3 extra soft toothbrush heads.

You can use me without a shaving brush. I produce a rich cream that cares for your skin when you shave. I will banish unwanted hair! Who am I? 

Our solid shaving bar can be used by men and women, and promises a smooth, easy, gentle shave! 

With organic shea butter :)

Price

€18.00

Regular price

€22.40

-€4.40

Limited edition!

Inside this beautiful box you'll find a solid shampoo made with Scots pine and a solid shaving bar made with shea butter!

Our Good Hair Day Duo makes a great Christmas gift – or why not treat yourself?

Consists of a shampoo with Scots pine and a shaving bar.    

Our razor is made from oak wood that comes from sustainably managed forests.

Our solid cosmetics and sustainable accessories are designed for men and women! Have you met our zero-waste razor and solid shaving bar, made with shea butter to soothe the skin? Once you've tried them, you'll never want to use anything else! Together they make the perfect gift – or treat for yourself!

Special offers

July marks the start of the summer holidays – but did you know it's also plastic-free month? So, when you get your suitcase ready, you're not allowed to pack any plastic! To help you, we've put together a few offers so you can travel light and plastic-free this summer!

Pack your zero-waste

suitcase!

Plastic Free July: take the challenge! Plastic Free July is an initiative that was started by the Plastic Free Foundation, based in Australia. Every year, in July, it gives tips to help people cut down their consumption of single-use plastic.

So why not start by going on a summer holiday without plastic? Lamazuna has lots of travel-friendly, ultra-practical, solid cosmetics that you can slip into your suitcase!


Get packing!

Discover our selection of zero-waste solutions that you can take with you anywhere!

Zero waste is a way of life, and our mission is to make this lifestyle easier! These brilliant accessories, created by some of our favourite brands, are bound to help. And if you're wondering why we chose these products in particular, it's because we already know them, use them, and love them! Discover our products for the kitchen and shopping – there's everything you need for a zero-waste picnic! We also have products for babies and children, including washable baby wipes and baby bottles that stack together, so they won't take up much space!

A 100% natural toothbrush!

The handle of this toothbrush is made from bamboo, while the bristles are made from a 100% renewable material derived from castor oil!  

Price

€11.12

Regular price

€13.90

-20%

Just three drops of this plant-based mouthwash concentrate are all you need to clean your mouth!

For a beautiful smile and super-clean teeth, try using these bamboo interdental brushes from Hydrophil!

Introducing "La Mini": a light, elegant drinking bottle you can use every day!

Looking for a fun, useful and eco-friendly gift? You've found it! 

This set of three pairs of socks with blue and white patterns will keep anyone's feet happy!  

Inside this pretty box, you'll find three pairs of socks that would make a great gift – or that you might just want to keep for yourself!

Made from organic cotton, these ultra-soft socks will make your feet look good and feel good!

These stylish socks are made in France and knitted mostly from linen!

Pour un mode de vie zéro déchet

Un service client disponible

Commande passé avant 12h expédiée le jour même

Livraison rapide en 24/48H

Un colis adapté et sans superflu

Livraison offerte dès 19€ d'achat

Zero-waste blog

Adoptez une routine beauté soin zéro déchet grâce aux cosmétiques solides

Read more

Sunday Monday Tuesday Wednesday Thursday Friday Saturday January February March April May June July August September October November December st nd rd th

Shampoing solide : 3 nouveaux shampoings Lamazuna reformulés

Read more

Sunday Monday Tuesday Wednesday Thursday Friday Saturday January February March April May June July August September October November December st nd rd th

Messieurs, dites Oui aux cosmétiques solides pour homme

Read more

Sunday Monday Tuesday Wednesday Thursday Friday Saturday January February March April May June July August September October November December st nd rd th